Posted in
Accommodation
@
Jan 13th 2015 10:48pm
- By Administrator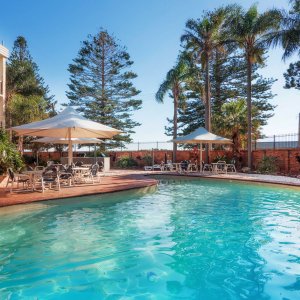 El Lago Waters is the perfect place to spend a relaxing, comfortable and enjoyable holiday in. We provide numerous facilities for our guests to enjoy. We have an outdoor saltwater swimming pool where you can cool off. Start your day right with a refreshing morning swim. Burn some calories by swimming a few laps in our pool. Experience the invigorating effect of hot steam in our sauna room. Sweat it out and enjoy the steam for a refreshing experience. Take a dip in our resort spa to melt your worries away. Step in, relax, and let the heat and bubbles work their magic. Enjoy some pampering by giving yourself a beauty massage/treatment. El Lago waters has a salon nearby. We also have barbecue facilities so you can enjoy a special bonding moment with your friends and family. Roast some chops and enjoy a nice al fresco lunch while swapping stories. There's nothing like a good old barbecue to complete your holiday. We also have a tennis-court so you can enjoy a friendly game with your friends and loved ones. Show off your backswing and that killer serve. Our tennis court is lit by floodlights during evenings so you can let your tennis games extend into the night. We also have laundry facilities for your convenience.
We offer our guests a choice of different rooms to suit their tastes. Take your pick from among our rooms that offer views of the lake, the pool, and the town. All the room are equipped with modern furnishings to make sure that your stay is relaxing and comfortable. All the rooms have ensuite bathrooms, modern kitchen facilities, air-conditioning and heating and large-writing bureaus.
Take a break at El Lago Waters.
To get the best rates and special deals in our NSW Central Coast Accommodation, book online: http://ellagoresort.etourism.net.au