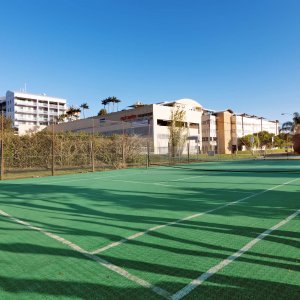 Health is wealth so you might as well make your body rich.

Did you know that you don't need to go to a gymnasium to get the workout your body needs? Just take a racket, a tennis ball, and someone to play tennis with and you're good to go.

According to scientists and doctors, tennis is one of the world's healthiest activities as it is beneficial physically, mentally, and emotionally.

Just like in a gym, tennis helps burn calories, improves and builds muscles, strengthens bones, and enhances flexibility and body coordination.

But unlike working out at the gym, tennis playing makes not just the body move, but also the mind. This is because when playing the sport, one doesn't merely move swiftly to hit the ball to make it reach the other side, for one must be alert and has his or her tactical thinking going to win the game.

And when it comes to the competition arising in the game, tennis encourages fun, communication, and interaction amongst the players, thus, it enhances the players' sportsmanship and work ethic. Even when you're not fit and you think you're too old to play the sport, tennis has no limit so everyone can play.

You don't know how to play tennis, you say? Worry not, especially if you're heading to The Entrance soon, because we have a Central Coast resort where you can learn and enjoy playing tennis with your loved ones.

Situated beautifully at the centre of The Entrance, El Lago Water Resort has a huge tennis court where you and your family can learn and play the sport while letting your bodies take in all its amazing overall health benefits. The use of this facility is available anytime, and if you forget to bring your tennis equipment with you, you are free to borrow our rackets and tennis balls at the reception.

What's more, we also have an outdoor swimming pool, sauna, barbecue area with facilities, sauna, laundry facilities, secured car parking space, beauty and massage treatments, and of course, a cosy and relaxing apartment unit where you can comfortably stay the night.

Book your stay at our The Entrance resort by visiting http://ellagoresort.etourism.net.au/.