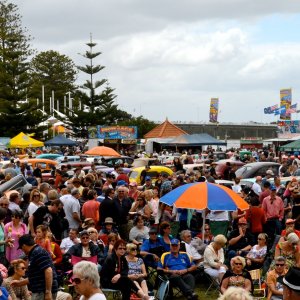 Imagine classic American cars, hot rods, rock 'n roll and rockabilly. Everything you have come to love about the 60s is coming right at The Entrance. Get ready for the highly anticipated Chrome Fest, happening from October 21st to 23rd.

Escape to Central Coast this October weekend for awesome yet free entertainment and displays, heaps of stalls, dance demonstrations and workshops workshops, vintage glamour fashion parade, and the Miss Pinup Doll Competition. Join thousands upon thousands of festival goers marveling at 500 vintage cars and a hundred market stalls. The organisers are expecting 60,000 attendees. It's going to be quite an experience, so bring your family and friends. Don't forget to share this with everyone who loves muscle cars and rock 'n roll!

ChromeFest is made possible by The Entrance Town Centre Management and Californian Cruisin Incorporated. For more information visit the official website at http://www.chromefest.org.

When it comes to finding your second home in Central Coast, you can definitely look forward to tranquil days and nights at El Lago Resort, where you can choose from our affordable yet luxurious The Entrance Holiday Accommodation deals. Not only that, you get to freely access El Lago Waters Motel's broad range of amenities. You can start off by taking a refreshing swim in our sparkling pool. You can let your kids hang at our fun games room, and get the pampering that you so deserve by going for a beauty or massage treatment at our nearby salon.

Since our establishment is a heartbeat away from destinations such as The Entrance, you surely won't have a hard time getting to the event. On your down time, you and your family can also take a leisurely stroll along the fine sands of the coastline, or fancy playing a beach ball game with your kids. Be sure to drop by the weekend markets for loads of fresh, local produce, and wine and dine to your heart's content at any of the best dining places within the vicinity.

Create new, exciting memories with your loved ones at Central Coast. Get your October planning started family adventure begin with a click of a finger. Visit www.hisitedirect.com.au today.
Image Source : Chromefest