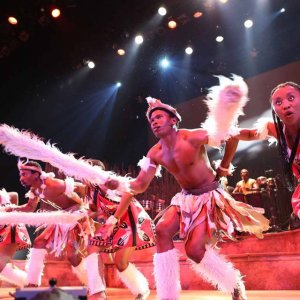 The brainchild of the Drum Cafe's Warren Lieberman and co-created with Kathy-Jo Wein, Drum Struck premiered in Johannesburg, South Africa in 2002.
It has since become a phenomenon, touring the world with shows in New York, Japan, Australia, China, Vietnam, and South Africa. The show was billed as the first interactive drum-theatre experience, and has won over audiences world-wide with its exhilarating presentation of African beats and explosive energy. This one of a kind show provides every audience member with a drum to play along with the on stage performers.
For the fifth year in a row the smash hit musical Drum Struck toured Japan in 2012. Playing to sold out houses and receiving standing ovations at every venue, this unique phenomenon, rooted in African culture, is a thoroughly engaging spectacle that provides the audience with an hour and of pure interactive fun and entertainment that is perfect for the whole family.
Enjoy the Drumstruck at Laycock Street Theatre at 7pm on Tuesday April 7 2014.
If you're looking to attend this event, you may want to book our NSW Central Coast Accommodation. We offer our guests a choice of different rooms to suit their tastes. Take your pick from among our rooms that offer views of the lake, the pool, and the town. All the room are equipped with modern furnishings to make sure that your stay is relaxing and comfortable. All the rooms have ensuite bathrooms, modern kitchen facilities, air-conditioning and heating and large-writing bureaus.
We provide numerous facilities for our guests to enjoy. We have an outdoor saltwater swimming pool where you can cool off experience the invigorating effect of hot steam in our sauna room. Take a dip in our resort spa to melt your worries away.
Book now at http://ellagoresort.etourism.net.au
Image Source : Drum Cafe