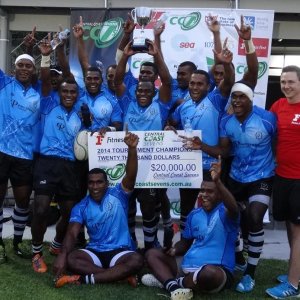 Are you an enthusiastic aficionado of rugby? Then you must have been waiting for another round of Central Coast Sevens International Rugby Festival!

Set to happen from October 23 to 25, 2015 in Wyong Rugby League Club, the festival, also known as CC7, will get rugby fans screaming and vying for their favorite teams.

Numerous international, national, and local champions are to compete and be combined with other biggest teams from Australia, New Zealand, Germany, Hong Kong, Canada, USA, Fiji, Samoa, Japan, and more so expect amazing and thrilling games only the best of the best can offer.

The event's schedule is as follows: Schoolboys Invitational Tournament on the 23rd, Premier Men and Women's Pool Rounds on the 24th, and Premier Men and Women's Final Series on the 25th.

CC7 is not just about rugby games, but also a vibrant festival with music, cultural celebrations, and special performances. So buy your tickets now from its website.

If you have decided to watch this electrifying festival, you most certainly need a place to stay if you're not from Central Coast. And by all means you can go to El Lago Waters Motel.

Set at the centre of The Entrance, our Central Coast resort is by the waterside making it an idyllic spot for the perfect relaxation you need after an exciting day at CC7.

And with our numerous apartment selections, you can have the most suitable unit with your perfect view. Choose the Sundeck Room and get just that, a room with the best privilege of getting all the sunshine in your room, the South Side where you can have the elegant view of the town, Poolside Room where the best view of our of tempting saltwater swimming pool is, the Lakeview Room where you can observe and be calmed by the lake, and the Executive Room where it's not all about the view outside but what you can see inside with its chic interiors and amenities. All units are fully furnished like it's your own home to make you feel as cosy as possible.

For booking information to our NSW Central Coast accommodation, please visit http://ellagoresort.etourism.net.au/.
Image Source : UON Central Coast Sevens - CC7s