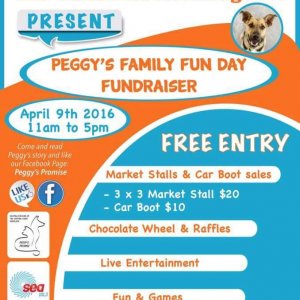 Our friends from Peggy's Promise, a registered charitable organisation based on New South Wales Central Coast, invite you to lend your hearts and your precious time for a unique family-friendly experience on your next visit to Central Coast.

They are putting together Peggy's Promise Family Fun Day, a fundraising activity that seeks to raise funds to help the homeless and their pets. Swing by Coast Hotel Budgewoi on 9th of April, from 11 a.m. to 5 p.m. to explore a wide range of market stalls, get your little tikes all revved up for heaps of kids' activities ahead, some awesome live entertainment, and loads of games and prizes to be won. Come along and enjoy an exciting day ahead and, ultimately, help our friends from Peggy's Promise help those in need.

Meanwhile, check in at El Lago Resort to be a stone's throw away from everything you'll love about the Gold Coast. You can choose from our affordable yet luxurious living spaces for a relaxing, hassle-free weekend.

Since the Gold Coast is one of the busiest hubs in Queensland, you can always witness vibrant musical festivals happening here or some delightful food and wine festivals taking place on nearby beaches. On ordinary days, the breathtaking beachside easily invites you to indulge in quiet, leisurely walks with your loved one, appreciate the picturesque view of the seaside, and indulge in gastronomic feasts at nearby restaurants. Get your hands on some novelty items and fresh local produce sold on Gold Coast's weekend markets while being serenaded by talented musicians.

Everything is simply a heartbeat away. After spending a beautiful evening outdoors, it's time to rest up for another long day ahead. We at El Lago Resort invite you to recharge using our superb amenities. You can spend the rest of the evening with an invigorating dip in our sparkling swimming pool, or perhaps enjoy some good old arcade games via our games room. Don't forget to pamper yourself with a beauty or massage treatment at our nearby salon.

What are you waiting for then? Book our NSW Central Coast Accommodation by visiting http://ellagoresort.etourism.net.au today. It's fast and easy!
Image Source : Peggy